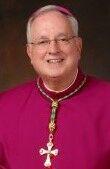 LA CROSSE, Wis. (WKBT) — La Crosse Bishop William Patrick Callahan has tested positive for COVID-19, and is experiencing mild symptoms, according to a statement from the La Crosse Diocese Wednesday.
The 71-year-old Callahan, who tested positive during the weekend, is in good spirits and being monitored by his medical team, the statement said. He also is isolating, following protocols of the federal Centers for Disease Control and Prevention.
"I am grateful for the abundance of prayers and good intentions that I have received during this time," Callahan said. "It is at times such as this that we are reminded that the Lord provides us with strength and is our salvation in times of distress."
Callahan, a Conventual Franciscan, has been bishop of the La Crosse Diocese since 2010. The diocese covers 19 counties in west-central Wisconsin.
Recent News Headlines from News 8 Now